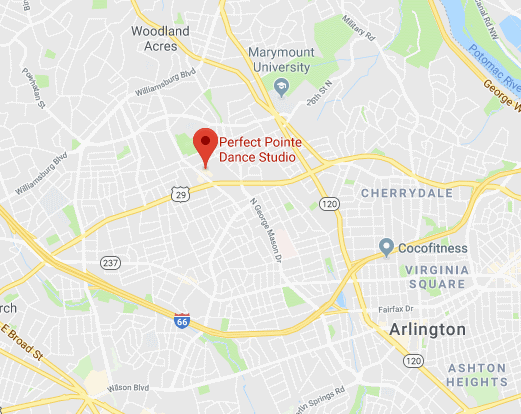 Address: 2499 N Harrison St, Suite LL-1, Arlington, VA 22207
Phone: 703-533-8830
Email: arlington@perfectpointe.com
Hours of Operation
Dance Classes are now on break until the start of summer session, Saturday June 26th. The front desk will be open the following limited hours:
Mon 6/14: 11:00AM-8:15PM
Tue 6/15: 4:00PM-7:00PM
Wed 6/16–Sat 6/19: Closed

Mon 6/21: 10:00AM-7:00PM
Tue 6/22: 10:00AM-7:00PM
Wed 6/23: 10:00AM-4:00PM
Thu 6/24: 10:00AM-12:30PM
Fri 6/25: 10:00AM-4:00PM
(Classes and lessons may be held outside these hours, but this is when someone is available to answer the phone, answer questions and handle payments.)
Getting to Perfect Pointe
Driving
Use your favorite navigation app to the Lee Harrison Shopping Center. Depending on where you park in the shopping center, you should be able to either see our sign, or the sign for 'Taqueria Poblano'. The entrance to the lower level is beneath those signs. Go through the double doors and down the stairs. Directly ahead of you is our secondary studio; to get to our primary space, where our reception desk is located, go right at the bottom of the stairs, then left at the drinking fountain. We are the last door on the left.
Parking
Students and Parents are highly encouraged to park in the free parking garage underneath Harris Teeter. There is a sidewalk that goes from the garage along the back of the building to a set of double doors near the dance studio. Spaces are often available in the garage when surface parking is difficult to locate.
If you follow the sidewalk behind the building and enter through those double doors, our primary studio and main office is down the hall to your right; our secondary studio is ahead of you at the bottom of the stairs.
Public Transportation
The studio is accessible from several bus lines - The ART 51 & 52 and Metrobus 3A,3B, & 3E. The METRO's Trip Planner is great for plotting out a route to the studio via public transportation.
Biking
The studio is located immediately adjacent to the Harrison Street bike lanes. There is a small surface bike rack to the left of the Harris Teeter main entrance, and a small covered bike rack in the parking garage beneath the Harris Teeter. If you park in the garage, there is a sidewalk that goes around behind the building to a set of double doors that enter directly in to the lower level.