Our top-notch faculty receive critical assistance from our excellent support staff. Assistant Dance Instructors help maintain classroom discipline, make sure the Lead Instructor's attention can always be where it is needed most and help keep our student to teacher ratio low while our office staff see that any administrative, book-keeping and billing issues are taken care of quickly and efficiently and are available to answer any class, camp or recital question that you might have.
Ms. Alice Wunderlich
Office Manager
An Arlington native and graduate of Yorktown High School, Ms. Alice grew up studying tap and jazz, a hobby she continues to this day at Perfect Pointe. She believes that everyone can and should dance whenever or wherever possible! Prior to joining our studio, Alice served as the bookkeeper and costume buyer for Masters Tuxedo and Costumes for nearly thirty years. In addition to dance, Alice loves spending time in her garden, spoiling her two cats and grand-puppies, and causing no end of trouble for her children and many siblings.
Mr. Christopher Slatt
Business Manager
Chris danced for several years, sampling many disciplines including ballet, tap and jazz. That all ended in the mid-1980s when he finally convinced his parents that watching Saturday morning cartoons was more important than being around lots of icky girls - this is often how you think when you're six years old. A nugget of that dancing spirit must have remained, however, as after growing up, moving to Washington, and getting his Bachelor's degree in Computer Information Systems from American University he went on to marry his High School sweetheart, Miss Kendra and started putting his technological skills to work on automating the dance studio. If you enjoy perfectpointe.com, online registration, and streaming recital music, he's the man to thank.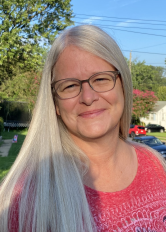 Ms. Karen Marchese
Front Desk Associate
Ms. Karen graduated from MD College of Art & Design with a degree in Visual Communication. She worked in the advertising/publishing industry in NY and DC for over 25 years. She settled in Arlington with her husband in 1999 to raise their family. From an early age, Ms. Karen loved dancing, but never took formal classes. Her style was considered "unique". When her youngest daughter caught the bug, she wanted formal classes...ALL the classes and this is how we found our Perfect Pointe home. Ms. Karen enjoys live music, art, road trips to anywhere, dry humor, mornings on the beach, time with family, friends and, of course, dance!