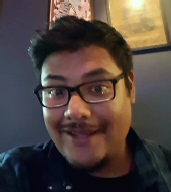 Marco Morales
Upright Bass, Electric Bass, Acoustic Guitar, Electric Guitar, Piano, Drums, Ukulele
Marco Morales has been an active musician in the DMV area for the past 15 years. He is a wellversed musician in a variety of musical styles such as jazz, punk, funk, hip pop, blues, rock and pop. Marco has performed at many different venues including The State Theater in Falls Church VA, The Bitter End in Greenwich Village NY, and the venue where he always wanted to perform as a young local musician, The Black Cat in Washington D.C.
Marco keeps active as an instructor of several instruments including the Upright Bass, Electric Bass Guitar, Acoustic Guitar, Electric Guitar and as well as beginning Piano. He also keeps up with the music community by working as a sound tech at The Howard Theater where he works alongside many touring professional musicians.
Through the many "not so good" gigs Marco has become an ace Guitar & Bass Technician. In between his busy schedule, he likes to help out fellow artists by sitting in for live shows, studio sessions, sound engineering and or just consultation.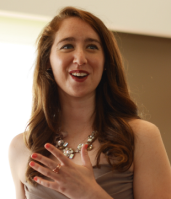 Lauren Anderson
Piano, Voice
Lauren Anderson holds a Masters of Music in Voice from Peabody Conservatory. There, she studied with world-renowned mezzo-soprano Denyce Graves. She received her Bachelors of Music from the University of Wisconsin-Eau Claire where she studied with Dr. Mark Mowry. A lover of the stage, Lauren has been very active in recent years. In the 2014-2015 season Lauren was seen as Dorothèe in Cendrillon, Julia Bertram(cover) in the U.S. Premiere of Mansfield Park, and Idamante in Peabody Opera Scenes. Last season she was seen as Jennie in Street Scene and Dido in Opera Scenes. Lauren also represented Peabody for the Conservatory Project Concert at the Kennedy Center. There, she performed selections from Jake Heggie's Camille Claudel: Into the Fire with string quartet. In the summer of 2016 she made her debut with Young Victorian Theatre Company as Leila in Gilbert and Sullivan's Iolanthe. A proponet of new music, she recently performed excerpts from Jason Mulligan's opera Through the Looking Glass at a New American Voice Concert in Houston, Texas. She was last seen in May performing "A Homecoming Recital" in Waukesha, Wisconsin. Throughout the season can also be seen performing with Annapolis Opera in their Chorus.
Lauren is thrilled to be teaching at Heartbeats and is excited to work with many different types of students. She has a background in vocal pedagogy and classical technique in voice and piano that can be applied to whichever genres her students would like to explore. She can help her students become well-rounded musicians by helping to foster not only their primary instrument but also their knowledge in music theory and history. She looks forward to catering to each student's needs and aspirations. She remains active in her own musical training and continues to study and coach in Washington, D.C.
Will Morales
Acoustic Guitar, Electric Guitar, Upright Bass, Electric Bass, Banjo, Piano, Drums, Ukulele, Mandolin, Aux Percussion
A 15-year veteran of the D.C. music scene and multi-instrumentalist, Will instructs guitar, upright bass, drums, ukulele, banjo, mandolin and piano throughout Northern VA. He also freelances as a sound engineer. Will has previously served as the Music Director of Virginia Hills Baptist Church Preschool where he taught over 200 students according to Fairfax County's Guidelines for early Youth Development. He has been a member of the Washington Jazz Arts Ensemble playing upright bass and has volunteered for the McLean Youth Orchestra (MYO). Will instructs many styles of music including Rock, Pop, Blues, Classical and Jazz. Will develops lesson plans unique to each of his students.
Soc Baez-Page
Violin, Viola, Cello, Piano
Soc has been playing violin and viola for 50 years. While she performed with the McLean Orchestra for 25 years, judging juries and music competitions afforded her an opportunity to stay involved with students. In addition, playing for weddings, funerals, church services and charity events has allowed her to share music with others during important times in their lives. Soc teaches classical violin, viola, beginning cello and beginning piano. She is available to coach audition preparation as well as small ensembles such as duos, trios, and quartets. Adult students are very much welcome!
Jody Chalk
Guitar, Banjo, Mandolin, Bass, Ukulele, Lapsteel Guitar & Violin
Joseph "Jody" Chalk has 38 years of performance and instruction experience on stringed instruments. He has performed with bands such as Blue Mule, Riders in the Sky, Doc Scantlin Imperial Palms Orchestra, Way Out West, Deanna Bogart, Hank Williams Jr., Special Delivery Band and Virginia Woodpickers in venues from Nashville to New York City.