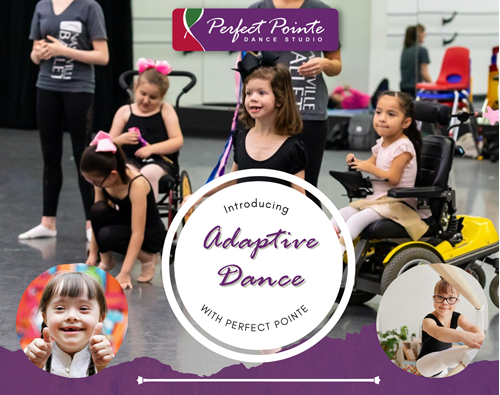 Adaptive Dance with Perfect Pointe is an inclusive program providing dance, music, exercise, and more to individuals with a variety of disabilities, challenges, or special needs.
Our classes are designed to apply fun & functional dance movement to evidence-based practices that can aid our students in reaching their developmental goals, while also building self-confidence and friendships!
Fall Session (9/8/23-11/17/23): Thursdays & Saturdays $300 (10 classes), Mondays $270 (9 classes)
Winter Session (11/27/23-3/2/24): Thursday & Saturdays $360 (12 classes), Mondays $330 (11 classes)
Spring Session (3/4/24-6/8/24): Mondays & Saturdays $330 (11 classes), Thursdays $360 (12 classes)
A $50 registration fee for new students includes a 1-on-1 introductory meeting with one of your instructors to discuss goals, needs, answer questions, get familiar with the space, and MORE!
Day / Time Location Options:
Thursdays 5:45-6:30pm here in Arlington
OR
Mondays 4:45-5:30pm at our Springfield location
OR
Saturdays 3:00-3:45pm at our Springfield location

For more information, or to schedule your introductory consult, contact us: 703-533-8830 or drtrickey@perfectpointe.com or register below.
Class Listing